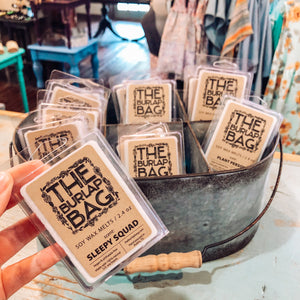 The Burlap Bag Soy WAX MELTS-Assorted Scents
Each melt comes in 6 little cubes to break apart with
more than 2.4oz total of great smelling wax.
They can be melted in a tea light melter
or electric wax warmer.
- they are NOT a candle. Each are made with 100% natural US soy beans.
They are hand poured in Austin,Texas
in small batches to ensure quality.

Scents:

Baked Bread: smells just like baked bread - delicious, warm, yeasty, buttery bread
Clean Freak: rosemary and fig
Crazy Cat Lady: No, it doesn't smell like litter or fur. It smells like yuzu (Japanese citrus)
King Of Farts: mixture of tobacco and wood notes
Mermaid Magic: It's a perfect beachy smell for all those ocean dreams of being a mermaid
Night Owl: This smells like a cozy night on the couch. Pomegranate mixed with orange, vanilla, and cinnamon
Plant Person: Scents of green vines, leaves, tomatoes, and basil make this amazing plant smell
Spoonful Of Cereal: the scent of your favorite fruity kid breakfast cereals
The Bee's Knees: an amazing mix of oatmeal and honey
Unicorn Puke: Smells just like cotton candy
Sleepy Squad: Lavender sage scent - perfect for sleepy moods

Bossy Pants: Citrus, coconut, and cardamom. Sweet and a tad spicy, like a boss should be
Cuddles: Mix of amber, sandalwood, musk, and vanilla
Hippie Scent: A little patchouli, sandalwood, citrus, and lavender 
Gimmie Coffee: Espresso with a touch of cream and sugar 
Someone In Texas Loves Me: Cactus and pear with notes of fresh florals and agave sugar
Texas Y'all: Sweet tea with lemon
You're A Wizard: Butter beer
Best Smell Ever:  Scents of tropical fruits like satsuma, guava, and papaya
SEASONAL SCENTS ARE 50% OFF

Spooky Season: A complex blend of scents including saffron, pepper, & smoky patchouli making this the perfect spooky October smell
Pumpkin Addict: Sweet & slightly spiced pumpkin
Gobble Gobble: Tart cranberry mixed with cinnamon, clove, & notes of mandarin orange
I Love Fall: Amazing roasted chestnut scent warmed with spiced berries, clove, & nutmeg
Pumpkin Party: Pumpkin mixed with amber, peppercorn, & spices, making this the ultimate autumn scent!
Holliest & Jolliest: Scents of cinnamon, brown sugar, & cake with a drizzling of icing
Santa Snacks: Scents of candy canes & marshmallows
Jingle Smells: The perfect Fraser fir Christmas tree scent!